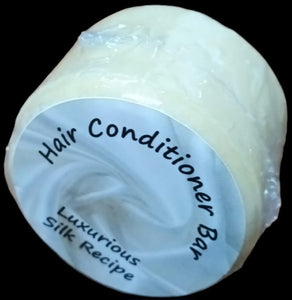 Our rinse off solid hair conditioner bar will leave your hair feeling soft, smooth & hydrated. Safe to use on dyed hair. 
The positively charged Cationic ingredients in this bar such as BTMS-50 & Cetrimonium Chloride will bond to the negatively charged keratin in your hair. This helps detangle your hair and leave it easy to brush, reduce friction between strands of hair & help control static & frizzing.
The combination of Ylang Ylang essential oil & Benzoin essential oil leaves your hair with a fresh clean scent.
Approx: 60g
🧼 = 🧴🧴🧴

How To Use
Rinse your hair in the shower and then rub the conditioner bar on the back of your head and down the length of your hair leaving a thin film of conditioner on your hair. Work this into your hair before rinsing off. After a few uses you will get used to the amount of conditioner you need to apply to suit the length of your hair.
Looking after your solid hair conditioner bar
Remember to leave your conditioner bar in a dry place & allow it to drain freely in order to prolong its life. We offer for sale a soap saver pad which will allow your conditioner bar to drain freely.
Environment
Globally about 9 million tons of plastic gets thrown into the ocean every year so by choosing to use a solid conditioner bar you are eliminating the need for a plastic bottle and as a result helping to reduce plastic bottle consumption. 
We also do not use plastic micro beads in any of our cosmetics. Microbeads are a big environmental problem caused by the cosmetic industry who intentionally include them in their products which then enter the public waste water system and eventually enter the ocean and other waterways where they are ingested by fish and other sea creatures. All the ingredients within this bar are biodegradable. We believe in using minimum packaging with all our products and the thin cellophane shrink wrap packaging which protects this bar is biodegradable and compostable. All of our cosmetic products are paraben free and palm oil free.

Safety Certified
As with all our cosmetic products, we have had our conditioner bar safety assessed in an independent lab and we have obtained a Cosmetic Product Safety Report (certification) as required by Regulation 1223/2009 to sell legally in the EU & UK.

INGREDIENTS:
BTMS-50
Cetyl Alcohol
Cocoa Butter
Cetrimonium  Chloride
Panthenol
Hydrolyzed Silk
Benzoin Essential Oil
Ylang Ylang Essential Oil
Warning: This product is intended for use as a solid hair conditioner for topical application. Rinse off product.
For external use only
Not for application to the mucous membranes, on broken skin or eye area
If irritation occurs discontinue use