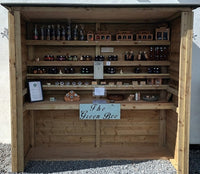 Welcome to The Green Bee.
Artisan Raw Honey, Chutneys, Pickles, Jams, Cordials, Herbal Tea, Cosmetics, Beeswax Candles & more.
All of our food & cosmetic products are designed & handmade by us right here in Connemara, Ireland.
Visit our honesty shop located at the front of our house in Camus, County Galway, H91A66X. Parking spaces available.
Our honesty shop works on the principal that given the opportunity people will be honest and pay the correct amount for what they take.
All of our products are available to purchase from our honesty shop 24 hours a day, 7 days a week.
This is a self service system where payment can be made by cash or debit/credit card.
We provide a cash box to insert your cash payment.
We provide a GoQuikz Tag inside the honesty shop which allows for card payments using a NFC enabled smartphone. Full instructions are available next to the Goquikz Tag.
Alternatively please call to our front door where we will be happy to help with any queries & we can also take card payments.