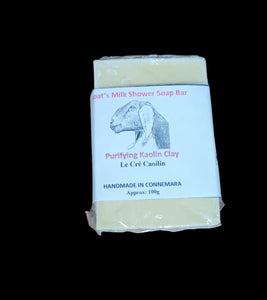 Our Goat's Milk shower bars have been carefully handmade by us in small batches using the cold process method.
As we live in a Gaeltacht area our labels are printed with both English and Irish text.
Our bars produce a creamy gentle lather which leaves your skin feeling clean and moisturised. Saponification is the term used to describe the chemical reaction that produces soap. Most commercially produced soaps combine water with lye & oils to start the saponification process. In our method of making soap we replace the water content with goat's milk. Goat's milk is full of essential fatty acids with a similar PH to human skin which means it's less irritating & can be used on all types of skin including sensitive skin. It is also rich in minerals such as Selenium & contains vitamins A,B,C & E. To this we next add a calculated quantity of oils & butters. We use only the highest quality raw & unrefined oils & butters available which we source from carefully selected producers. All of our cosmetic products are paraben free and palm oil free.
🧼 = 🧴🧴
Extra additives included in this bar
Within this soap bar we have added one extra ingredient to the goat's milk soap base. Which is as follows:
Kaolin Clay

 

is a gentle cleanser for any skin type and is great at extracting any impurities on your skin and absorbing excess oil without causing any inflammation or redness.
Scent
As we have not included any essential oils this soap bar has a neutral scent.
Looking after your shower soap bar
Remember to leave your shower soap bar in a dry place & allow it to drain freely in order to prolong its life. We offer for sale a soap saver pad which will allow your shower soap bar to drain freely.
Environment
Annually over 1.4 billion plastic bottles of body wash are emptied and enter the garbage and recycling stream not including shampoo & conditioner bottles. Less than 10% ever gets recycled and it can take 450 years for a plastic bottle to decompose. (Source: https://www.reduce-plastic-waste.com/)
By choosing to use our goat's milk shower soap bar instead of a liquid body wash you are eliminating the need for a plastic bottle and as a result helping to reduce plastic bottle consumption. We also do not use plastic micro beads in any of our cosmetics. Microbeads are manufactured solid plastic particles of less than one millimetre added as an ingredient to shampoos, conditioners, body washes, etc. They are a big environmental problem caused by the cosmetic industry who intentionally include these in their products which then enter the public waste water system and eventually enter the ocean and other waterways where they are ingested by fish and other sea creatures. All the ingredients within this bar are biodegradable. We believe in using minimum packaging with all our products and the thin cellophane shrink wrap packaging which protects this bar is biodegradable and compostable. The brown cardboard packaging is recyclable.

Safety Certified
As with all our cosmetic products, we have had all our goat's milk shower soap bars safety assessed in an independent lab and we have obtained a Cosmetic Product Safety Report (certification) as required by Regulation 1223/2009 to sell legally in the EU & UK.
INGREDIENTS:
Caprae Lac (Whole Goat's Milk)
Sodium Olivate (Saponified Olive Oil)
Sodium Cocoate (Saponified Organic Raw Extra Virgin Coconut Oil)
Sodium Prunus Amygdalus Dulcis (Saponified Sweet Almond Oil)
Sodium Cannabis Sativa (Saponified Cold Pressed Hemp Seed Oil)
Sodium Cocoa Butterate (Saponified Organic Unrefined Cocoa Butter)
Argania Spinosa (Saponified Argan Oil)
Kaolin Clay
Approx: 100g
Warning: This product is intended for use as a traditional cleansing soap for topical application. Rinse off product.
For external use only
Not for application to the mucous membranes, on broken skin or eye area
If irritation occurs discontinue use