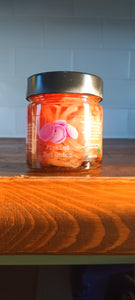 These homemade pickled onions are made in small batches in our kitchen in Connemara.
They have an amazing red colour and are a great addition to a burger or steak this summer during a BBQ. They also go very well with a freshly made salad or with a cheese platter.
Approx: 240 grams.
Due to shipping regulations this product can only be shipped within Ireland.